All around Le Tilleul Gites
Paizay le Tort is a charming village in a wooded valley with the river Berlande meandering through. Pleasant walks and cycle rides can be taken from our village. A small romanesque church, tennis courts and obstacle course are just a short stroll away. There are a few old lavoirs around the village which are worth visiting.
Melle is a delightful Romanesque market town only 5km away. It has three interesting churches and the oldest royal silver mines in Europe. There is a botanical walk around the town with thousands of shrubs and trees which change with each season. Classical music events are held annually and, as well as a Jazz Bar, you will also find cafes, restaurants and all amenities in Melle. The vibrant market with its jewel coloured fruits and vegetables, is held on Friday mornings.
Chef Boutonne is the home of the Javerzay Chateau which is surrounded by a lovely lake where carp fishing is available. It is a delightful small town with a lively market on Saturday mornings. There are also restaurants and bars where you can sit outside and watch the world go by.
Niort is the departmental town of the Deux Sevres and lies on the banks of the Sevre Niortaise river. It has an historical dungeon, a covered food market, and lovely old streets with individual and unique shops, and plenty of restaurants within pedestrianised streets. There is often live music beside the river in July and August and the open air area near the tourist information centre is great fun for children. There are also golf courses nearby.
Cognac  sits alongside the Charente river and is a delightful town to spend a day in. Take one of the many tours of the cognac distilleries such as Hennessy, Martell or Otard, to name a few. In July, Cognac is host to the world famous Cognac Blues Festival.
Angoulême is a Cathedral city and during its long and varied history it has been fought over many times. The city sits on a hill above the Charente and, in this bustling part of the city, you will find a labyrinth of alleys that are full of charming shops, restaurants and bars. Watch the classic car event racing around the city in September and enjoy the annual Cartoon Festival in January.
Poitiers is a lively university city and is nestled on top of a hill where it offers fine views over the Boine and Clain river. As a university city there are  plenty of restaurants and bars and a lively atmosphere in the evening. The centre is pedestrianised and is therefore a great place to take a stroll and do some shopping
La Rochelle boasts a bustling harbour, historic centre, and an active cultural scene. In the central shopping area you will find chic boutiques and street cafes.  A relaxing lunch at a quayside restaurant overlooking the two ancient towers that guard the city is a must for all seafood lovers. The aquarium is a major attraction and is popular with children and adults alike. There is also a beach hidden behind the two towers, so La Rochelle offers the best of both worlds.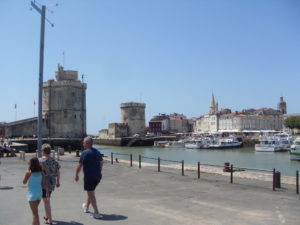 Bordeaux is home to the famous wines of the same name. The city has a large shopping centre, many bars and restaurants and, of course, numerous vineyards and chateaux to visit in the surrounding countryside.
Oradour Sur Glane is a village in the Limousin region. The original population was destroyed on 10 June 1944, when 642 of its inhabitants, including women and children, were massacred by a German Waffen SS company. A new village was built after the war on a nearby site but, on the orders of the then French President, Charles De Gaulle, the original village has been maintained as a permanent memorial and museum.
Marais Poitevin, also known as the 'Venise Verte', includes 600kms of canals and rivers. Pretty houses and villages populate this major natural beauty spot. Visit the labyrinth of canals where you can hire a boat or bicycle.
Futuroscope is France's magnificent theme park based on technology near Poitiers. A visual journey to different destinations!
Chataillion Plage, close to La Rochelle on the Atlantic Coast, features 2 miles of sandy beaches, quaint villas, fish restaurants and a casino. You can try your hand at wind surfing or visit the aquatic centre.